Our Menu
Planet Yucca Restaurant's International Menu has been carefully selected to offer the best, quality food choices in Kusadasi. An absolutely amazing array of cuisine is on offer from Turkish,Mexican, Italian, Indian, Chinese,Fish, In-Salate and British Menus to Planet Yucca's mouth-watering Grill & Steakhouse Style Menu. Planet Yucca's quality food choices also include carefully selected Vegetarian options which prove extremely popular with guests.
Planet Yucca is open 7 days a week, from 10am until 2am, for the best breakfast, snacks, lunch and dinner in a Kusadasi restaurant.
All Planet Yucca food is locally sourced where available and prepared by Planet Yucca's team of innovative and highly trained chefs before being served to you by friendly and attentive staff.
Turkish Cuisine
TURKISH CUISINE

Cold Starters (Meze's)

Haydari
Ezme
Cheese Roll
Dolma
Aubergine Salad
Mixed Meze
Melon

Main Courses

Kebab with Yoghurt
Planet Yucca Kebab
Adana Kebab
Kebab with Cream Sauce
Shish Kebab
Chicken Shish Kebab
House Special

Chicken

Pollo Alla Crema
Pollo Alla Cacciatore
Cajun Chicken Fingers
Chicken Schnitzel
Chicken Anatolia
Coconut Chicken
Jack Daniel's Chicken
Hot Barbequed Chicken with BBQ Sauce
Planet Yucca Special Chicken
Kip Sate

All chicken orders are served with chips, mixed fresh vegetables and rice…
Indian Cuisine
INDIAN CUISINE

Starters

Pakora
Samosa
Chicken Chat
Chicken Wing
Onion Bhaji

Tandoori

Chicken Tandoori
Chicken Tikka
Tandoori Mixed Grill

Rice

Special Rice
Basmati Rice
Mushroom Rice

Chicken

Chicken Korma
Chicken Madras
Chicken Curry
Chicken Tikka Masala
Chicken Jalfrezi

Breads

Naan
Garlic Naan

Lamb

Lamb Korma
Lamb Madras
Rogan Gosh

Prawn

Prawn Bhuna
Prawn Biryani
King Prawn Bhuna

Chef's Recommendation

Chef's Special Curry or Biryani


Vegetables

Vegetable Mix
Gobi Aloo
Vegetable Masala
Bombay Aloo
Vegetable Rogan Gosh
Raita

Set Menus

Set Menu 1 ( For 2 Person)

1 Samosa
1 Pakora
1 Lamb Korma
1 Chicken Tikka Masala
1 Peas Pilau
1 Basmati Rice
1 Garlic Naan

Set Menu 2 ( For 2 Person)

1 Onion Bhaji
1 Samosa
1 Rogan Gosht
1 Chicken Tikka
1 Basmati Rice
1 Naan Bread
Chinese Cuisine
CHINESE CUISINE

Starters

Wan-Tun Soup
Chicken Mushroom Soup
Hot and Sour Soup
Chicken Noodle or Rice Soup
Chicken Sweetcorn Soup
Spicy Satay Chicken on Skewers
Vegetarian Spring Rolls
Chinese Combo Plate
Spring Rolls
Fried Wan-Tun
Chicken Salad in Hot Sauce
Prawn Crackers

Chicken Dishes

Sweet and Sour Chicken
Chicken with Mushroom
Chicken with Pineapple
Curried Chicken
Garlic Chicken
Spicy Szechuan Chicken
Chinese style Spicy Chicken
Deep fried Spicy Chicken
Deep fried Spicy Chicken in lemon sauce
Chicken with Black Bean Sauce

Beef Dishes

Beef with Green Pepper and Garlic Sauce
Beef with Garlic in Hot Sauce
Beef with Mushroom
Chinese style Beef (hot sauce)
Curried Beef
Beef with Black Bean Sauce

Duck Dishes

Peking Style Duck
Orange Duck
Chef's Special Duck

Pork Dishes

Sweet and Sour Pork
Spare Ribs in BBQ Sauce

Sea Food Dishes

Shrimp with Oyster Sauce
Sweet and Sour Shrimp
Shrimp with Garlic
Fried King Prawn

Chop Suey Dishes

Shrimp Chop Suey
Beef Chop Suey
Chicken Chop Suey
Special Chop Suey

Sizzling Dishes

Sizzling Chicken
Sizzling Beef
Sizzling Prawns
Sizzling Mixed Plate

Chow Mein Dishes

Shrimp Chow Mein
Beef Chow Mein
Chicken Chow Mein
Special Chow Mein
Vegetable Chow Mein

Sweet

Fried Banana in Honey
Fried Ice Cream

Rice

Shimp Fried Rice
Beef Fried Rice
Chicken Fried Rice
Egg Fried Rice
Curried Fried Rice
Mixed Fried Rice
Plain Rice

Set Menus

Set Menu 1
(for 2 Person)

2 Spring Rolls
1 Sweet and Sour Chicken
1 Beef Chop Suey
1 Chicken Chow Mein
1 Egg Fried Rice
1 Chinese Salad

Set Menu 2
(For 2 Person)

1 Chicken and Mushroom Soup
1 Spring Roll
1 Beef with Garlic in Hot Sauce
1 Sweet and Sour Chicken
1 Vegetable Chow Mein
1 Egg Fried Rice

Chef Special
(For 2 Person)

2 Spring Rolls
1 Spare Ribs in BBQ Sauce
1 Szechuan Chicken
1 Egg Fried Rice
1 Curried Fried Rice
Mexican Cuisine
MEXICAN CUISINE

Starters

Vegetable Quesadillas
Fajita Quesadillas
Mushroom Quesadillas
Planet Yucca Nachos
Jalapeno Peppers
Potato Skins

Main Course

Mexican Spicey Chicken
Chili Con Carne
Enchiladas
Tacos Con Carne Molida
Fajitas
Fajita Chimichanga
Mushroom Chimichanga
Burrito Supremo

Vegetarian Dishes

Mixed Vegetable Gratin
Sicilian Hot Pot
Vegetarian Fajitas
Penne Vegetarian
Italian Cuisine
ITALIAN CUISINE

Antipasti

Hors D'oeurvres

Bruschetta
Coppa Di Gambretti
Gambretti alla Diavola
Alletta alla Diavola
Funghi Italiano
Pesto Tricolore Formaggia
Fried Crab
Calamary Fritti
Carpaccio di Monzo

Zuppe (Soup)

Zuppe Di Pomodori
Creamy Chicken Soup
Creamy Mushroom Soup

La Pasta

Lasagne Verde Al Forno
Cannelloni
Spaghetti Alla Bolognese
Spaghetti Alla Carbonara
Tagliatelle Alla Frutti Di Mare
Tortellini Alla Polo
Macaroni Della Chef
Fettucine Alfredo
Shrimp Alfredo
Petti Di Pollo Italiano
Pizza
PIZZA

Pizza Margherita
Pizza Funghi
Pizza Quattro Stagioni
Pizza Pisa
Pizza Hawai
Pizza Special
Pizza Marinara
Pizza Vegetariana
Grill & Steak
Grill & Steak

Fillet Steak
T-Bone Steak
Sirloin Steak
Lamb Chops
BBQ Butterfly Chicken Breast
Steak Surf Turf
Pepper Steak
Rockford Steak
Mexican Steak
Beef Stroganoff
Planet Yucca Steak
Mixed Grill
Steak Diana
Mushroom Steak
Jack Daniels Steak
Wiener Schnitzel
Chateaubrian
All Our Steaks Specially selected by Our Chef and Marinated Just For You!
All steak are served with homemade chips, mushrooms, tomatoes, potatoes, mix veg. and onion rings.
Fish
Fish

Sea Bass Alla Grilla
Aegean Sea Bream
Sword Fish
Grilled Prawns
Fish and Chips
Salmon Au Gratin
Shrimp with Garlic
All fish dishes served with mashed potato and mixed vegetable
In Salate
In Salate

In Salate Verde
Tuna Fish Salad
Mediterranean Chicken Salad
In Salate Mista
Shepherd's Salad
All our salads are served with a selection of dressings
Lemon and Olive oil, Mayonnaise sauce,Mustard Sauce, Rockford Sauce, French Dressing, Chef's Sauce
Kids Menu
Kids Dining Experience
Planet Yucca's Kids Menus have been carefully selected to ensure children have their own enjoyable experience at Planet Yucca.
Kids Menu
Planet Yucca has a great kids menu full of fantastic favourites that the kids will love. Planet Yucca's  kids menu is great value and also includes a soft drink and dessert.
Kids Drinks Menu
Planet Yucca has specially designed  kiddie fruit cocktails, smoothies  and yummy milkshakes on offer alongside soft drinks and fruit juices.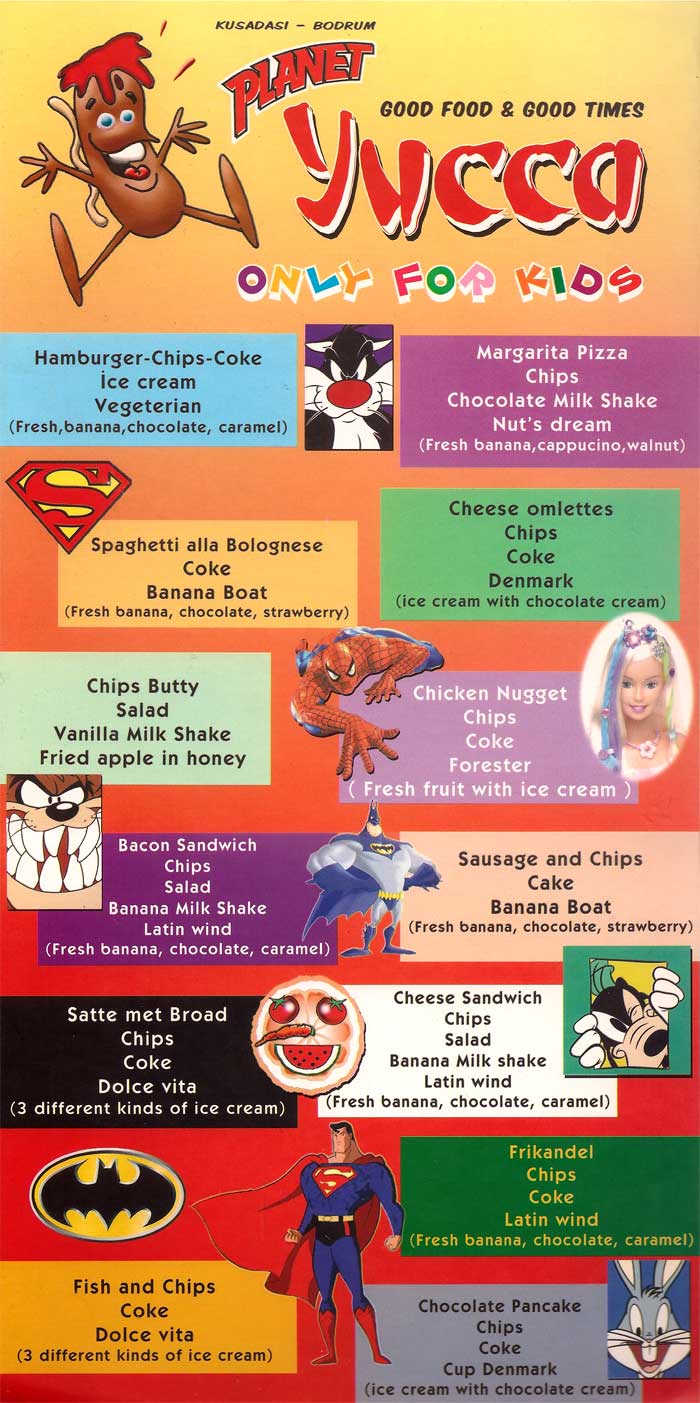 Wine List
Planet Yucca has a reputation for providing the best imported wines, spirits and beers alongside the locally produced drinks selection.
Planet Yucca's popular Cocktail Menu is packed with the very best cocktails for you to enjoy.
Planet Yucca has an additional 'Fine Wine' Menu made up of specially selected 'fine wines' at prices that will enable you to happily keep the wine flowing throughout your evening.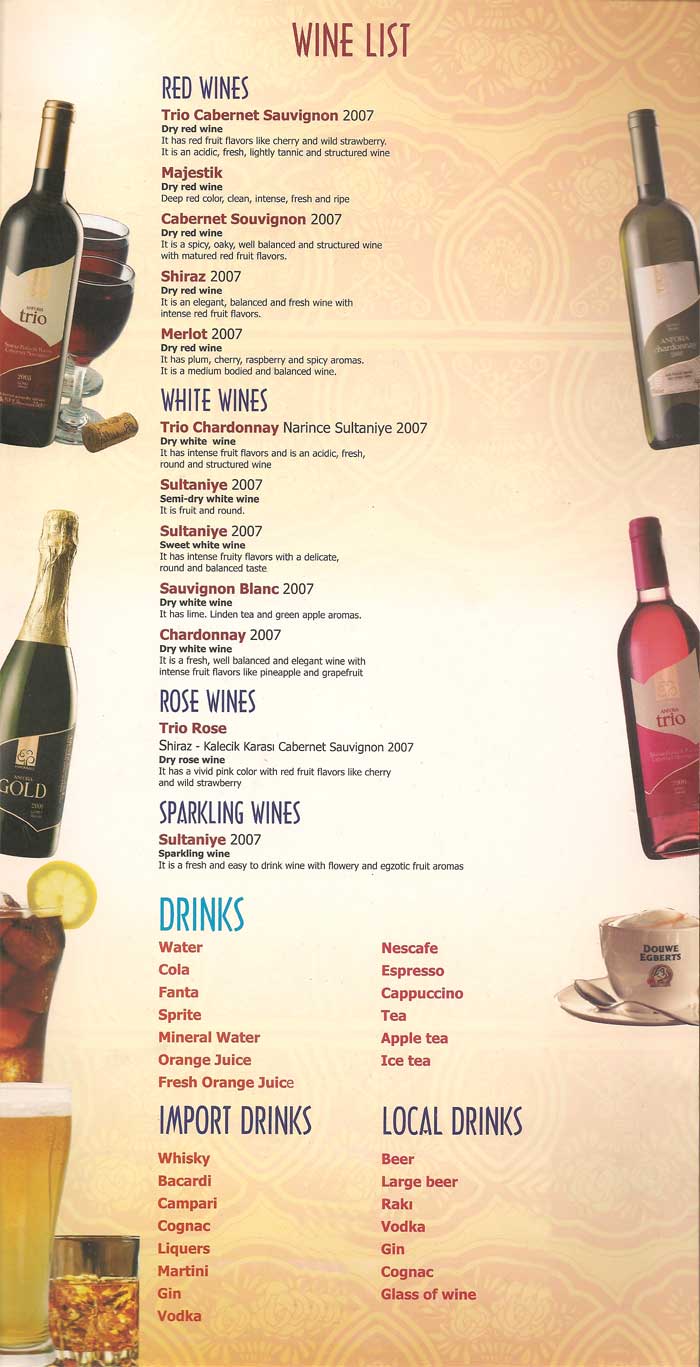 Planet Cafe
Planet Cafe is the place to get the hot or cold drink or dessert of your choice, whether it's  daytime or  evening.
Planet Yucca's Specialty Coffee Menu,  Classic Coffee Menu, Flavoured Coffee Menu and, of course, Tea Selection Menu ensures there is a hot drink to suit everyone at any time of the day.
Planet Cafe also offers an extensive range of  delicious Smoothies, MilkShakes and  Iced Coffees alongside other soft drinks.
Enjoy a taste of luxury with Planet Yucca's delicious desserts, pancakes/crepes and wonderful waffles or simply choose from the special Ice-Cream or Ice Slush selection.
Today there is lot of unexpected condition which force individuals to take medicines. In fact, it is formidably to select well-thought-of pharmacy. A lot of medications are used to treat erectile dysfunction. Have a question about Viagra or "women taking viagra"? What do you know about "viagra women"? Some drugstores describe it as "viagra for women". Furthermore, this may turn on high blood stress, kidney disease, or a venous leak. Such disease is best solved with professional help, generally through counseling with a competent doctor. Your doctor can can offer some treatments that is best for you and your partner. The sexual physic specialist needs to solve which dosage is best for you. If the remedy is used as needed, you are not likely to be on a dosing schedule.