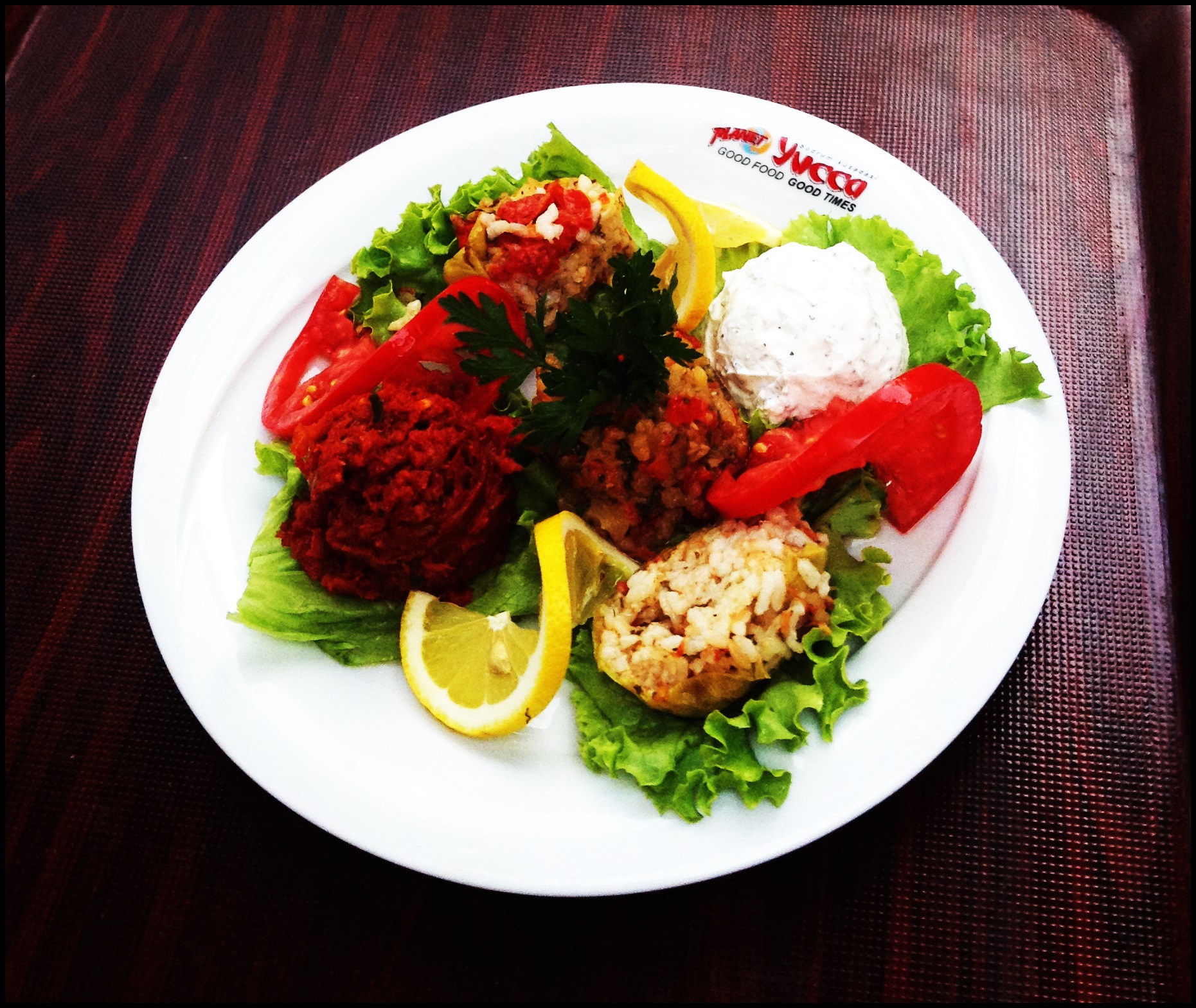 Planet Yucca Restaurant in Kusadasi
---
Vegetarian and Gluten Free Food in Kusadasi
Vegetarians often tell us that we are the best restaurant in Kusadasi in regard to the great choice of international food we offer to satisfy their taste buds. They also tell us they will only eat in Planet Yucca Kusadasi restaurant as our vegetarian menu is the best! Wow! What a great compliment!
This season we added to our Vegetarian Menu by including Vegetarian dishes in our new Thai Curry Menu . For a reminder of Italy, why not enjoy some Bruschetta, and, if you eat cheese, then check out our Vegetariana Pizza or Mushroom Pizza. Made from scratch, starting with the homemade pizza base topped with chef's own delicious homemade sauce, before quality, locally sourced ingredients are added, it's fair to say these yummy pizzas are enjoyed by many and not only vegetarians! For vegetarians in Kusadasi who want Turkish food, look no further than our Turkish Menu and try some delicious,homemade mezes. If it's Indian food you're after, then try our popular homemade Onion Bhajis or Vegetable Samosas to start, followed by Aloo Gobi,Vegetable Masala, Vegetable Rogan Josh – or any other of the Vegetarian main courses on the Indian Menu – with some rice, naan and raita on the side! For your Chinese food night, our homemade Vegetarian Spring Rolls hit the spot for a starter, followed by a nice and healthy Vegetable Chow Mein. Fancying a taste of Mexico? No need to look further than our Mexican Menu for some great vegetarian food, with Vegetable Quesadillas to start, followed by Vegetarian Fajitas – or, indeed, any one of our other tasty Mexican Vegetarian options – to enjoy that taste of Mexico!
Nowadays, we often get asked if gluten free food is available at Planet Yucca restaurant in Kusadasi and we're happy to say the answer is a big yes! Meat lovers willl be happy to know they can enjoy a tasty steak from our Grill menu or choose our homemade Beef or Chicken Shish Kebab from our Turkish Menu, remember to ask for some of our (gluten free) homemade chips on the side and the job's a good one! Vegetarians who also need a gluten free diet will be pleased to know the popular Vegetable Fajita dish from our Mexican Menu certainly makes the grade! Lovers of seafood can enjoy the best Sea Bass, Sea Bream and Spicy Garlic Prawns from our Seafood Menu – safe in the knowledge that it's gluten free.
If you have any questions or special dietary requirements when visiting Planet Yucca restaurant in Kusadasi, please talk to your waiter and he will check things for you with our Head Chef. You can also drop us a line via the website if there's anything you'd like to know before you visit !
---